FOUR VINES
California's Central Coast is a vast, rugged landscape stretching from Santa Barbara north to Monterey Bay. It's wild country with a gorgeous coastline and few towns. Wide open with fertile farming soil and abundant ranchland, this place attracted more than just farmers and cowboys it also attracted artists, rebels, seekers and bon vivants from the Bay Area and the Los Angeles sprawl. The confluence of their unique personalities put a stamp on the burgeoning wine region and today, rule-breaking and non-conformity are celebrated values. Four Vines honors the anti-establishment views of the Central Coast's eccentric personalities. We make interesting wine, for interesting people.
The Kinker
The Biker
The Maverick
The Form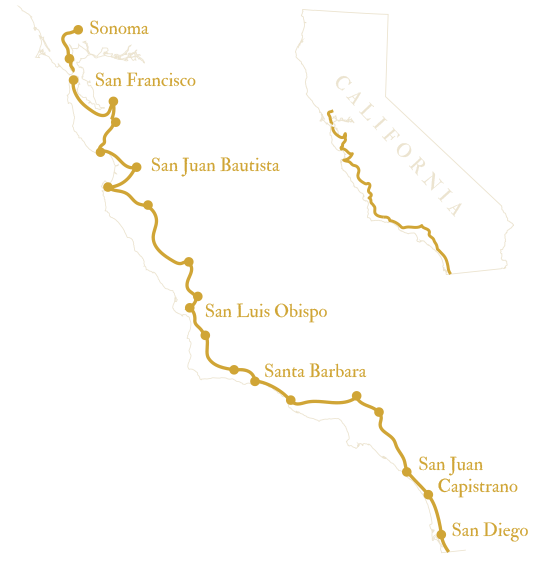 A historical trail that links California's missions, the El Camino Real or "Kings Highway" in Spanish, begins in San Diego and runs 600 miles north to Sonoma. Another name for this route could be the Wine Highway as it was the trail the Franciscan friars traveled bringing the first vinifera grape cuttings from Europe to California. The Central Coast was home to several missions, including San Luis Obispo and Santa Barbara, where the friars planted vineyards for the production of wine and brandy. Today the El Camino Real is lined by commemorative markers featuring tall shepherds crooks topped by large bells.
Stretching from Monterey Bay all the way to Santa Barbara, the Central Coast AVA (American Viticultural Area) is home to 40 smaller growing regions such as Paso Robles and Edna Valley. Most Central Coast vineyards run east to west, open to the chilly Pacific Ocean. As the interior begins to warm, cool, moist air is pulled into the valleys creating morning fog and reducing sun exposure. Grapes are fond of chilly evenings and ripen slowly and evenly under these conditions. More hang time on the vines equates to more flavor in the glass!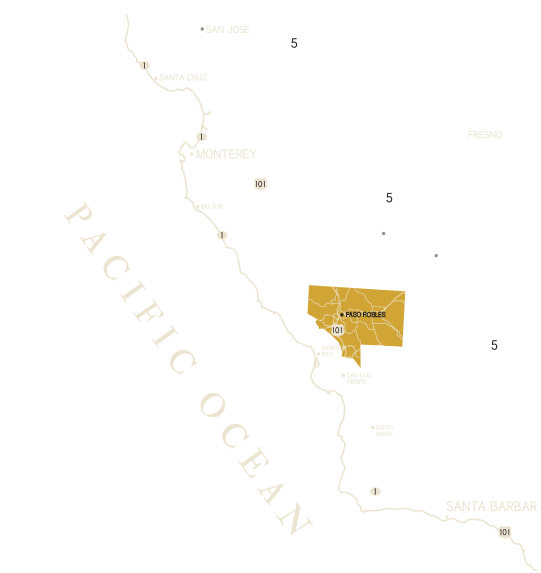 Dualing Climates
Diversity is what sets Paso Robles apart from California's many growing regions. Featuring numerous microclimates and soil types, the Paso Robles American Viticultural Appellation (AVA) has a Mediterranean climate marked by warm days and cool nights. On the west side of Paso, the soil is nearly white and quite porous – ideal conditions for Zinfandel. Conversely on the east side the soil is red and clay-based, the perfect environment for Cabernet Sauvignon.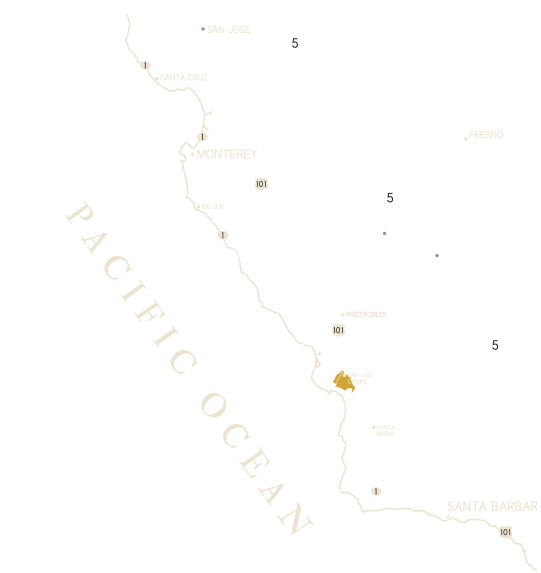 Extreme Coastal
Known for its extreme coastal vineyards, the Edna Valley runs east to west, surrounded by volcanic mountains. With moderate sunshine, cool maritime fog and volcanic terroir, the Edna Valley appellation hosts California's longest growing season. The valley is cooled by breezes from the neighboring Pacific Ocean and is best known for Chardonnay, Pinot noir, and to a lesser extent, Syrah.
El Camino Real
The Central Coast
Paso Robles
Edna Valley
Find Four Vines
Four Vines is distributed throughout the USA. Whether it's being served by the glass at your favorite restaurant, or sold by the bottle at your wine shop of choice.